Past Events
---
9 July - 21 August 2011
Exhibition Gemeentemuseum Den Haag
ZomerExpo2011
A work I made in New York has been nominated and selected for the exhibition of the Summer Expo 2011 in the Gemeentemuseum Den Haag.
The opening of the exhibition will be shown on Dutch television: Sathurday 9 July, 5 - 6pm, Nederland 2.
More information:
ZomerExpo 2011
Gemeentemuseum Den Haag
Cultuurgids AVRO
---
22 - 24 July 2011
Open Studio München
with Stefan Moritz Becker
Baumkirchnerstrasse 57 München (Berg am Laim)

Friday 22 july, 18 -21h
Sathurday 23 july, 13 - 18h
Sunday 24 july, 13 - 18h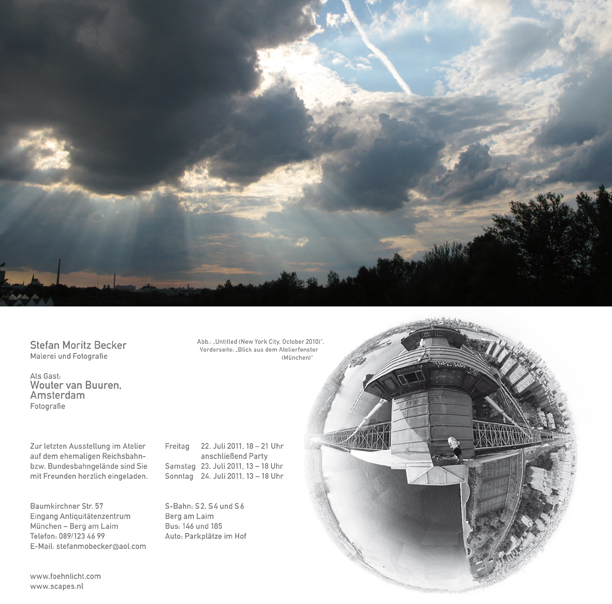 ---
11, 12, 13 June 2011
Open Studios
Westelijke Eilanden Amsterdam
De Woordensmederij
Bickersgracht 256 Amsterdam
Daily from 12 to 6pm
KunstKerk
Prinseneiland 89 Amsterdam
Daily from 12 to 6pm
Two new works, one made in Amsterdam, the other in New York.
More information:
www.oawe.nl/
---
11 May - 15 May 2011
Exhibition at Art in Redlight
Raamgracht 58 Amsterdam
Daily from 2 - 6pm
Two new Photocollages
One made in New York, the other in Amsterdam.
The exhibition is part of
Art in Amsterdam
.
---
6 April 2011
Exhibition in New York
One work has been shown at the groundbreaking gala for the Figment Project.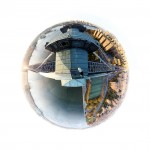 Title: Untitled (New York, October 2010)
2010, C-print mounted on aluminum, 30 x 30inch

Starting bid: $600
Bidding increment: $50
Wouter van Buuren makes photographic collages of landscapes and objects. He is particularly interested in the way we experience space. By merging multiple pictures into one large image he creates new spaces. Since 2006 Wouter has been creating 'total landscapes' in which multiple pictures visualize an entire scenery. To achieve this he climbs onto and then photographs from electricity towers, cranes, high rise buildings and bridges. Van Buuren lives and works in Amsterdam, The Netherlands.
More information:
newyork.figmentproject.org